KingsFans.com
Holy sockhops Batman! We blew somebody out! Woohoo!
The 44 point margin of victory here was the 4th largest margin in franchise history...as in the entire Kings/Royals franchise history dating back to 1948. It was the third largest in the Sacto era, and the biggest margin since 1993. In March of last year though we did beat the Bulls by 42, so not completely unprecedented of late.
Best part about it wasn't the extended garbagetime, best part is that we did it with defense. After allowing a punchless team to score 32 against us in the first quarter, we held them to 48 points combined in the final three quarters. Kyrie was awful. They pretty much all were awful.
We are now 7-8 since Gay entered the lineup. But now comes the big test. A brutal roadtrip/road heavy stretch lasting all the way into early Feb. it could...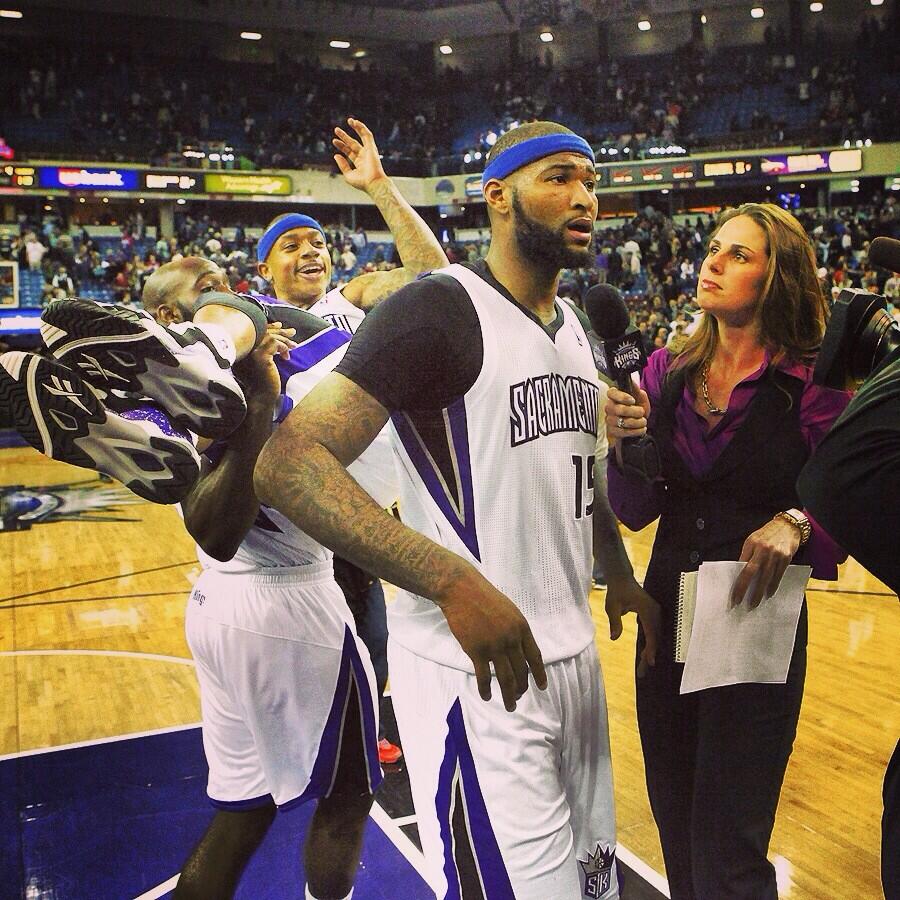 KingsFans.com Official Game Thread
Game 34
Sacramento Kings versus

Orlando Magic
Miami Heat
​
By Stephen Tetsu, the Sixth Beatle

​
Another game against one of the league's top teams, another "shocking" victory. Facing off with one of the league's surprisingly elite teams, our plucky Sacramento Kings pulled off another win. At this point I'm not sure if we're playing up to the level of the competition or if we're just playing down to the level of all the bad teams that we lose to.

For three quarters against the Blazers we looked like our old non-defense-playing selves but for one starling quarter we looked like we actually realized it's alright to stop the other team from scoring. That third quarter of the Blazers game was a thing of beauty,...
Holy buckets Batman! Jeesh. How to sum this up. well...we finally found a way to give up 113 or more points and win a game? The sad/scary part is that across the board it looked like our defensive effort was up, and then the 4th quarter came and things just went nuts and we ended up giving up 119 even on a night when we really tried. As I said, scary. So, I guess pointers:

-- Ben finally lost his starting job to Thornton. Thornton tried hard but there is no room for an offensive player in that role.
-- IT came out in this one notably subdued, and passing rather than shooting. After half he became more shooting oriented.
-- Boogie and Rudy combined to destroy the Blazers defense with 35 and 32 pts respectively
-- in three meetings this year, Cousins has completely annihilated the Blazers to the tune of 35pts 9reb, 33pts 12reb, and 35pts 13reb.
-- there were a ton of very shaky calls in this one, touch calls, a pack right at the end of the half against us, and another pack at...
KingsFans.com Official Gameday Thread
Game 33

Sacramento Kings versus Portland Trailblazers
​
By Stephen Tetsu, Ric Flair's BFF
​
Well things haven't exactly been pretty lately. After an absolutely ugly start to this five game homestand, things around our franchise (both on the team and in the collective minds of the fanbase base) have started to broach Paul Westphal levels of bleakness (just without the ineptitude of the Maloofs or the out-of-date coach who completely dropped the ball when it came to establishing a system in Sacramento or the Demarcus punching Donte Greene thing). Despite the hiring of a defensive coach, our defensive seems to have actually somehow gotten worse than it had been in the Keith Smart era.
When the Charlotte Bobcats, a traditionally awful offensive team, are able to drop a cool 115 points on you with minimal effort, you are probably not very good at defense and not only are we not...
Tee hee.
Well, you weren't sure where this was headed as we came back off a 5 day break looking like we didn't even remember who each other were. But we got steadied by the bench of all things, and then the starters locked in, and our own Big Three bumped, grinded and battled down the Heat. Serves those arrogant bastards right for treating us as a JV team they could rest their old guys against.
Your Consoritum Graders tonight:
Bricklayer
Rainmaker
Bajaden
Capt. Factorial
MassachusettsKingsFan
Boxscore
Stats: 40min 26pts (11-19, 1-5, 3-3) 3reb 1ast 1stl 1blk 5TO
Gay ( A- )
-- This was another of those tales of two halves. He started the game on a bad note by shooting an air ball from beyond the arc. He followed on the next...
KingsFans.com Official Gameday Thread
Game 27

Sacramento Kings versus New Orleans Pelicans
No, I don't understand this picture either. (Bonus caption contest!)
​
The Prelude
The day everyone has been waiting for is finally here. Yes, that's right. We finally get to see Arinze Onuaku in action. Get your popcorn folks, buckle your seatbelts, put on your safety helmets, strap Junior into his booster chair because things are about to get crazy.
I have no idea who else is on the Pelicans roster but I'm pretty sure there's no one important and/or anyone who has previously been on our team before. I'm also pretty confident in saying that the Pelicans have absolutely no big men on note on their roster. Also, their mascot is pretty terrifying.
The...
Okay...this felt like it might be the beginning of something. Much to interest again:
-- we played defense and held the #1 scoring team in the league to 91
-- Gay was great again, changes the whole feel having a 2nd weapon (actually the first weapon much of the night)
-- we solved the terrible SG woes by just only playing them half the game and running big lineups with Gay at SG the rest of the mins
-- IT got the unselfishness memo loud and clear, presumably from the coaching staff, but my ego tells me it was me.
-- and on a night when Cuz's numbers were likely better than his impact, we blowout another playoff team
And we're taking it to Texas on our home floor. When do the Spurs come to town? Now we finally hit the road, but 3 of the 4 games out East are winnable. Maybe things turn. Maybe they don't. But we actually have the talent to make it interesting now.
Your Consoritum Graders tonight:
Bricklayer
Uncia03
Bajaden
Capt. Factorial
MassachusettsKingsFan
...
Its appropriate we included a Consortium member with Homer Simpson as his avatar for this one, because this was a major doh! effort, resetting enthusiasm and reminding everybody of just where we are. And where we were was in the land of the suck. Not only did we not get to see the new guys make their debuts, but we looked lackluster and out of sorts from the very beginning of the game, the Jazz compounded things by playing brilliantly at times (35ast 8TO really? Really??), and even the crowd got in on the suck. The offense was ragged, the defense was just, as Coach Malone said, embarrassing, and I don't think we made a single real run at making it respectable after the first quarter.
The good news is that I am shallow and always willing to take advantage of Kings misfortune to post more pics of
Pretty Girls
. Have to take your silver linings where you can find them.
Your Consoritum Graders tonight:
Bricklayer
Uncia03
Spudfan
Capt. Factorial
Henkel
...
Well...that went about as well as could be humanly expected. We get a career night from Derrick Williams. A career sharing the ball night from the little guy. And a mere 32-19 mushing by the big guy, including what coulda/shoulda been a Webb behind the back dunk on Barkley moment, when he posterized Dirk, but unfortunately got called for smacking him alongside the head with his forearm in the process (for these purposes we'll ignore all the times he passed it to Mavs like they were teammates). The Mavs looked helpless to stop any of it, and if it were not for our summer league quality bench tonight, this is a 25 to 30 point smackdown of a playoff team.
Your Consoritum Graders tonight:
Bricklayer
Uncia03
Spudfan
Rainmaker
Henkel
Boxscore
Stats: 35min 31pts (12-16, 3-5, 4-6) 5reb 0ast 5stl 0blk 2TO
Williams ( A+ )
-- my very first note on Derrick...
As most people expected coming into this one, this game was all about Chuck Hayes. His skill and athleticism, his good looks and charm, his fashion sense, did you know his favorite movie is Yentl? It was amazing. He is amazing.

But I suppose once you get past the awesomeness that is Chuck Hayes, this was also a game about finding just enough from just enough guys...and then capping it with one of THOSE quarters from Isaiah. You know the ones I'm talking about. 3-4 times a year he has a quarter where he starts getting more excited than a rained on rooster, and the game descends into a strange push away the keyboard and watch playground exhibition of one man against the world. The Thunder, who's stars BTW were both much worse than their statlines, especially Westbrook who doesn't look fully back yet, kept sputtering and puffing and surging and going ice cold and never did get into a sustained put them away rhythm. Finally the door was held open long enough for Isaiah to almost...